ARCHIMEDE LITHIUM BATTERIES FOR AGV POLYTEC FLEETS: A WINNING SOLUTION
"Voyager 200" is the AGV fleet fully designed and assembled by Polytec. The battery? A key component.
THE PROJECT: AGV "VOYAGER 200"
The AGV "Voyager 200" has been developed by Polytec in the first months of 2021 to improve the warehouse efficiency of one of its customers through the dynamic handling.
The AGVs have been designed by Polytec to automatize and optimize the picking, transportation, loading and unloading of materials. This solution proved to be a great success among companies from any sector due to its improvement of warehouse managing, storage and picking.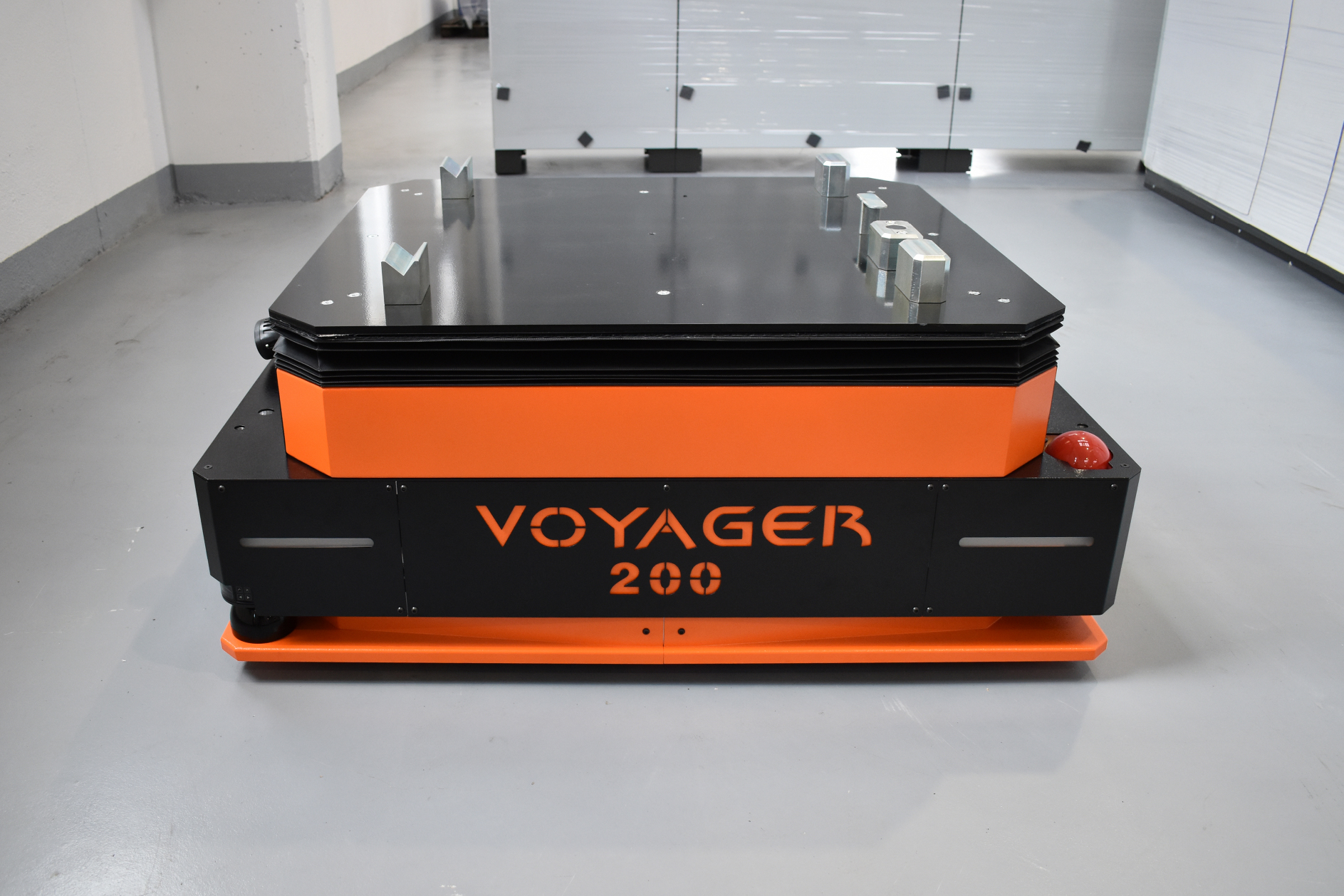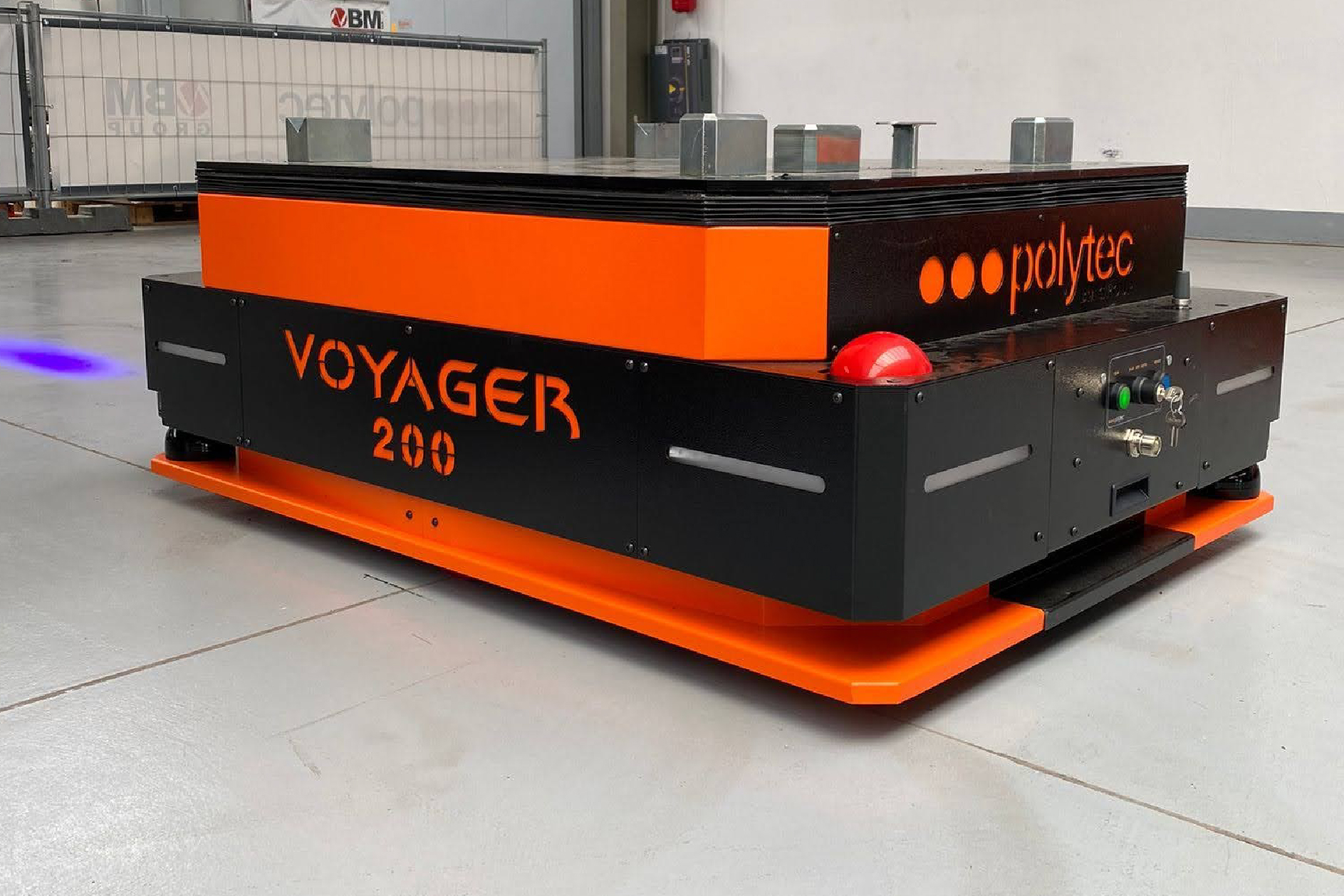 WHO IS POLYTEC
Polytec develops tailor-made robotic systems for industries. The technologic know how, such as 3D-vision systems and self-learning software implemented on robots, allows the company to create robotic areas capable of automatically managing a wide range of activities: pick and place, allotment, preparation of pallets. This is possible also thanks to software, internally developed by the company, dedicated to orders elaboration.
The AGVs by Polytec are automatic vehicles that, based on customer necessity, exploit different technologies for the movement: magnetic or optic strip, lasers, or GPS. In all the above-mentioned cases, the AGV software sends a message to the vehicles defining a route and a timing. The software automatically optimize routes and pickings, assuring safety and reliability. For warehouse logistics, as well as for procurement of production stations, mobile robotics and autonomous vehicles are now becoming valid collaborators who guide the workspace of the human operator.

ARCHIMEDE'S LITHIUM BATTERIES INTEGRATED IN THE AGV 
The battery is a fundamental component inside an AGV. Archimede Energia has identified lithium batteries as the right solution for Polytec's AGV. The PJY-044-100-T45 battery with LiNMC technology is a 44.4V per 100Ah accumulator. Taking advantage of the CANOPEN protocol with DS418 profile, the battery has been customized to meet thecustomer's needs.
Compared to a lead acid battery, Archimede lithium batteriesguarantee significant advantages, such as:
Greater duration and autonomy
Fast charging with lower energy consumption
Possibility of short reloads without damage
Higher energy density with less weight and bulk
High temperature ranges
No gas exhalation during recharging
No maintenance required
Possibility of checking the batteries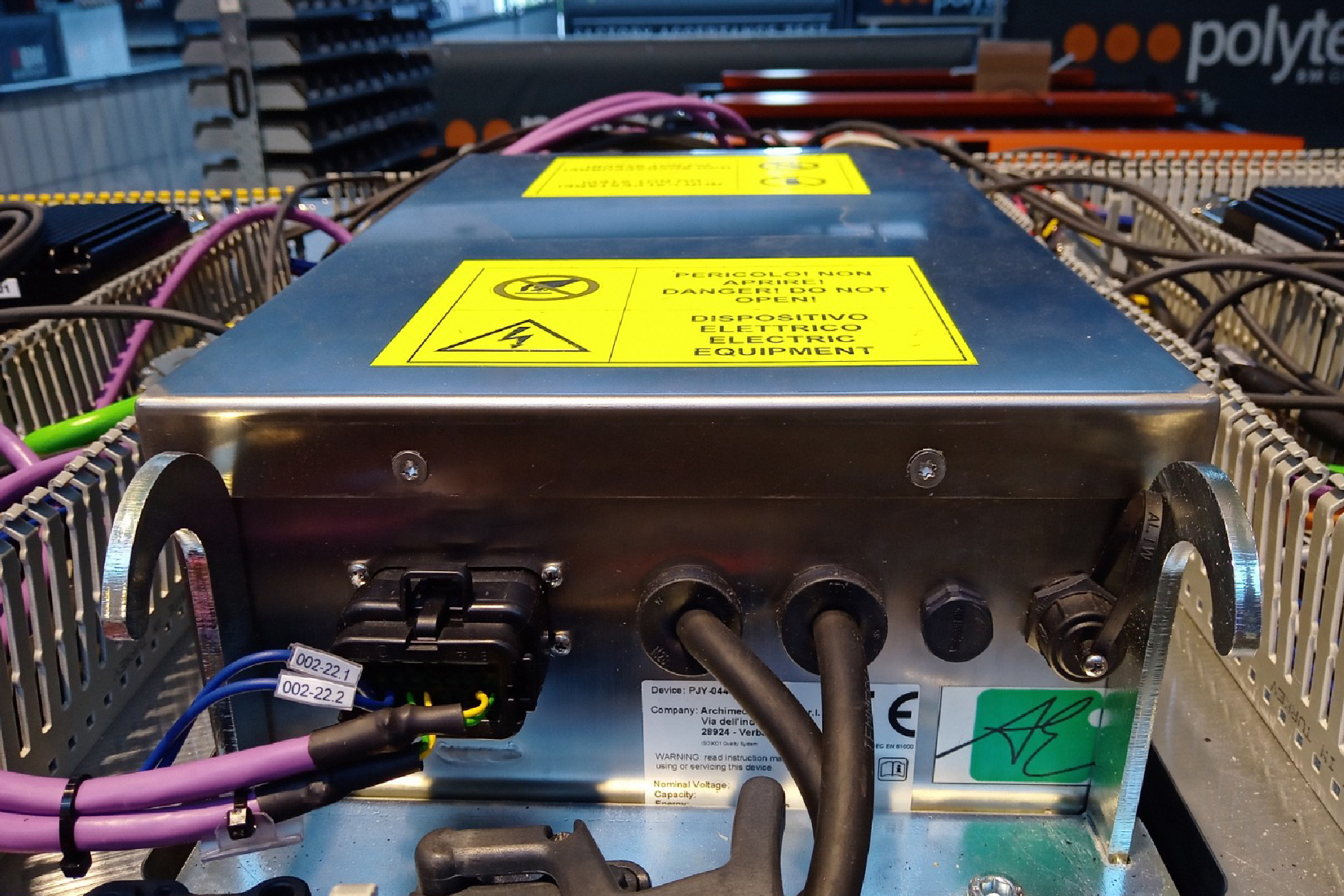 LET'S GET TO KNOW POLYTEC
Polytec was born from the merger of two leading companies in the fields of automation, robotics and renewable energy. Polytec establishes itself internationally as a system integrator specialized in solutions and platforms which, by integrating robotics, artificial intelligence, process automation and software , allow manufacturing companies that technological transformation necessary to retrain intelligent factories. The experience and expertise gained over time have allowed a new interpretation to intra-logistics, ensuring more safety, more efficiency, more quality.
"VOYAGER 200" VEHICLE TECHNICAL FEATURES
Dimensions: Length 1300 mm; Width 950 mm; Height 490 mm
Weight: 622 kg
Ground clearance: 40 mm
Loading surface: 1060X950 mm
Load weight: 2000 kg