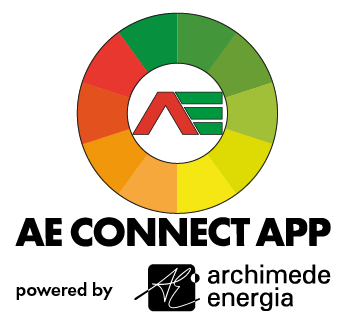 Æconnect: The app for monitoring Archimede Energia lithium batteries
Æconnect app is now available on the App Store and Google Play. The Archimede Energia application allows you to monitor the "Ænerbox Blue" lithium batteries directly from your smartphone or tablet.
Ænerbox Blue takes advantage of the Archimede Battery Management System, BLE bluetooth communication and MQTT internet, to increase its potential. This range of lithium batteries is ideal for applications where smart battery management is essential, such as autonomous vehicles (AGV), e-scooters, e-trolleys, medical equipment, light towers and generators hybrid current. This system can monitor several batteries simultaneously, even in series or parallel, and display the details of each battery.
With Æconnect you can access real-time battery data such as:
state of charge (SOC)
life cycles
voltage (V)
capacity (Ah)
charge and discharge current
temperature
Furthermore, thanks to the geolocation function, it is possible to detect the position of the batteries, this function is useful especially for mobile applications such as for electric vehicles.
Æconnect allows you to share the battery situation with Archimede technicians or collaborators in a simple and intuitive way, using your smartphone as a data logger.
Users can easily customize the batteries according to their needs or view data and graphs of the battery status over time.
Æconnect and the Ænerbox Blue range of batteries represent a step forward in the management of lithium batteries, offering customers an integrated, safe and complete system for monitoring and managing batteries, ensuring a better user experience and greater efficiency in their use.